danachan.livejournal.com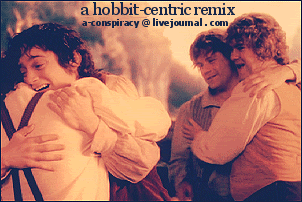 Some of this you have seen before, but most of it is new. What this means is that the sign ups are now open!
( what is a remix? what are the basic rules? )
( what are the deadlines? what is the timeline? )
( how do we play? )
( who'll post the stories? )
( so, I think I won't be able to finish my story; what should I do? )
( if you can pinch hit, then this is what that means )
anything else?
If you have any other questions, either
email me
, or comment on
this post
.
in closing
Hobbits are great. This means more hobbit fanfic, and that is always a very good thing to have.
--

danachan