Community Profile

Free Account
Created on 2017-04-06 22:21:41 (#2928512), last updated 2017-04-16 (22 weeks ago)
168 comments received
30 Journal Entries, 4 Tags, 0 Memories, 1 Icon

About
| | |
| --- | --- |
| Name: | a hobbit-centric remix |
| | |
| | |
| Membership: | Closed |
| Posting Access: | All Members |
| | |

Mini Bio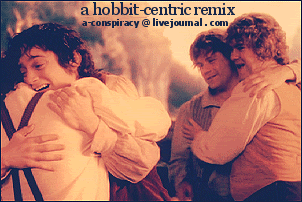 what are we:
a_conspiracy
was a hobbit-centric remix fic exchange run in the summer of 2007. Maybe we'll repeat it sometime if you let us know you're interested. See
this post
for a listing of the authors and fics in the exchange.
mods:
danachan
and
sophinisba
.
credit and inspiration:
A lot of our inspiration and the wording for our rules were taken from the annual
remixredux
/
remix_redux
, a large, multifandom challenge run by
musesfool
.

Connect
challenges
, creative transformation,
fandomcommscount
,
fanfiction
,
femslash
,
freedom of speech
,
frodo
,
gen
,
het
,
hobbits
,
lotr
,
merry
,
middle-earth
,
pippin
,
remixes
,
samwise gamgee
,
slash
,
the shire
,
tolkien
Administrators

Linking
To link to this user, copy this code:
On Dreamwidth:
Elsewhere: